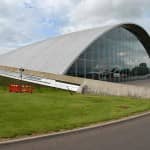 At its peak strength in 1944, the United States Army Air Forces (USAAF) employed 450,000 Americans in Britain. Most people think of the bomber crews or fighter pilots, but the majority of USAAF's men (and some women) were engaged with non-combat tasks, all of which were necessary to keep the planes flying.
The American Air Museum website records the stories of the men and women of the who served their country from the UK during World War II. It also records the memories of the British people who befriended them. You can browse, edit and upload your own photographs and memories to the site.
Here is a short video about it.
The American Air Museum is located at IWM Duxford, part of Imperial War Museums, near Cambridge, United Kingdom. The building is home to the best collection of American military aircraft on public display outside of the United States.
.