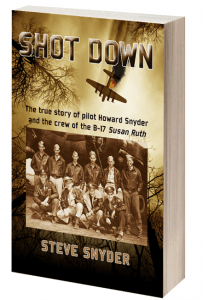 There have been many books written about the air war over Europe during World War II, especially about the Eighth Air Force.  I know because I have read a lot of them.  Some books are very general in that they are about many bomb groups, many missions, and many combat crews.  Others are very narrow in scope which relate the adventures of one man; his time while stationed in England, his combat missions, his time as a prisoner of war, etc. Other books are written about one particular event.
So what makes my book any different and any more interesting?
Shot Down is about the entire crew of the B-17 Susan Ruth and about the unique experiences of each man after their plane was knocked out of the sky over the French/Belgium border.  Two men died.  Three men were captured and became prisoners of war.  Three men evaded the Germans for two months but were betrayed, captured, and shot. Two men evaded capture and were missing in action for seven months.  The stories are all different and are all remarkable.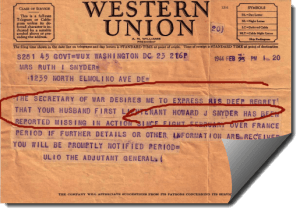 Through personal letters, oral and written accounts, military records, and interviews – all from people who took part of the events that happened 70 years ago, the stories of the crewmen comes alive.  So many incredible incidents in such vivid detail are presented that readers will ask: "How does the author know that?"  "How could he possibly know that?" "How did he find all this out?"
However, even before the dramatic battle in the air and the subsequent harrowing events on the ground, the story is informative, insightful, and captivating.  Prior to the fateful event, the book outlines the men's training, their journey to England, their life while stationed there, and their combat missions.  Everything is centered around the 306th Bomb Group stationed at Thurleigh, England of which the crew of the Susan Ruth was a part.
To add background and context, many historical facts about the war are entwined throughout the story so that the reader has a feel for and understanding of what was occurring on a broader scale.  Thus, the book is a fascinating story about brave individuals, featuring pilot Howard Snyder, set within the compelling events of the war in Europe. You will be given an insider's seat to the hopes, dreams and fears of a remarkable group of young airmen and the brave Belgian people that loved, cared and risked their lives for them.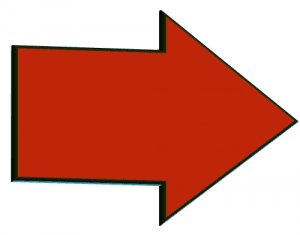 BUY on Amazon / Barnes & Noble / Indiebound or where fine books are sold.