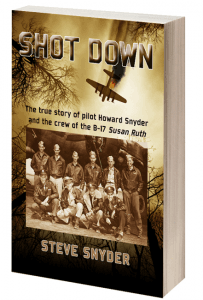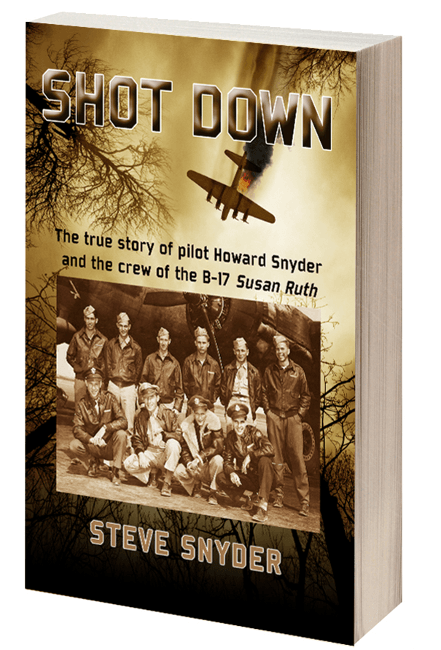 Robin Loves Reading reviews Shot Down

Five Star review by Robin
Shot Down is a compelling read. It is full of interesting facts and tidbits as to how the pilot and crewman the planes during this difficult time in history. The author began his research with the diaries and letters of his father, Lieutenant Howard Snyder, the pilot of the Susan Ruth, a B17 bomber, and other reference materials, including previous books and even films made about that time. Indeed, a well-researched book.
This is the first book of this type for me. I am very glad that I had the opportunity to read it. There were many, many things about the war that I was not aware of. The diaries, photographs, and letters that Howard and other crew members wrote to their families were just so tender and sad. This helped to show the humanity that existed behind the war. Kudos to Steve Snyder for presenting things in this manner.   
---
At the same time exciting, historically accurate and emotional story
By Denis Vukosav  
'Shot Down' written by Steve Snyder tells a true story about the B-17 Flying Fortress Susan Ruth and its crew during the World War II. The reason for writing this book lies in the author's family inheritance, precisely because of his father who was the pilot of the airplane that was named after his baby daughter, and took part in the incredible events that have befallen the crew of this aircraft.
Steve Snyder's work is well-researched and offers story not only rich in details about this airplane and its crew, but goes even further, providing a numerous details and less known facts about the people and events of the Second World War. I was very surprised that Snyder even made the effort to find the German pilot who shot down a plane piloted by his father, showing his desire to present the events in detail and from multiple angles, which is why his story is authentic and comprehensive.
The B17, the four-engine heavy bombers produced during the 1930s for the US Army Air Corps, were extensively used during the World War II bombing of occupied Europe. Their crews were therefore very courageous groups of people that have taken a huge risk because of overflight of enemy territory, resulting in many deaths due to destruction of aircrafts or as a result of capture by the Nazis.
The B-17 aircraft piloted by Steve Snyder's father, Howard, was one of those destroyed planes – on February 8, 1944 they were hit and shot down between France and Belgium. In his book, Steve Snyder tells a story about everything that happened to his father and other brave people from his crew after they had been shot down.
What I especially like is that the author has not fallen into the trap to write a story that would be of interest only to historians; instead Snyder's story is at the same time exciting, historically accurate and emotional, while especially touching are the letters author's father wrote to his wife when far from each other.
The level of detail together with quality of description is exceptional, showing how much courage was required to participate in the events of those turbulent years, as well as the fear that is present among the crew not to end up as German prisoners of war.
Therefore, Steve Snyder must be congratulated on a job well done in writing not only the history of his family, but also the work that far exceeds these boundaries – an extremely powerful and detailed faction work that remains permanently in memory of reader
Therefore 'Shot Down' is a must-read for historians and people who like to read about WW II, a well-made book that besides providing an exciting family history brings lot of unknown and interesting information based on extensive research Steve Snyder conducted.
I was given a copy of this book by the author for the purpose of unbiased review, while all the presented information is based on my impressions.
---
It is our duty to remember

By Grady Harp (Los Angeles, CA United States) 
California author Steve Snyder studied and gained his BA in Economics at UCLA, using that training in national sales and sales management. Since retiring he has focused his fascination with World War II history, especially those of his father, pilot Howard Snyder and his crew of the B-17, Susan Ruth, named after his older sister. After nearly five years of research he penned SHOT DOWN, and for an `amateur historian' he has won awards and applause form distinguished authors and historians and he now participates in many World War II associations, in addition to being Vice President of the 306th Bomb Group Historical Association. In 1994 and 2004 he participated in the Anniversaries of the Liberation of Belgium. All of this comes home in this immensely interesting history of an important event too few of us know.
Not only has Steve achieved a meticulously researched book, recreating this moment of military history when on February 8, 1944 The B-17 Flying Fortress Susan Roth was shot down, landing in Belgium, but he also molds an empathetic novel that allows the reader to be there, terrified and surviving along side men we come to know through Steve's exceptional writing. SHOT DOWN Shot Down was created from the vast number of letters and journals of Howard Snyder; diaries of men and women on the ground who rescued, sheltered and hid the crew; and interviews conducted by historians. The build up to the tragedy details training tactics, the increasing tension of the war as it built toward 1944, and the aftermath of the downing of the plane under the beneficent care of Lt. Howard Synder. There is more information here about the underground support of US troops in Europe and the interaction between the citizens of Belgium and the crews of airmen whom they aided in providing protection and friendship.
Another aspect that makes this book so very fine is the inclusion of many photographs taken during the war, from intimate images of the crew members to planes in flight to battles to images of telegrams and letters – Steve covers his story pictorially as well as with the written word. This book is a film waiting to be optioned, one of the war films that hopefully will encourage us never to forget the valor of the fighting forces not only in WW II, but in all wars where men and women offer their lives for their country. Highly Recommended. Grady Harp, April 15
---
Felt like you were on the mission

By poet-lariat 
I just finished this good read. Having flown in the Navy, and being a WW ll history buff, the book was hard to put down. The author paid great tribute to his Dad and the crew of the Susan Ruth. He laced his Dad's incredible experiences with historical facts that I did not know. Loved the book and highly recommend this fast, but well put together story. I can't get the young Mormon bombardier, who was betrayed by a Belgian citizen, and executed in the woods, by Germans, out of my thoughts.
---
We enjoy our freedom
I couldn't put it down. No pun intended. Shot Down is a must read by every American, not just World War II aficionados. We enjoy our freedom, in large part, because thousands of young American men, against steep odds of survival, had the courage and commitment to get in an airplane, risk mechanical failure, pilot error and enemy fighters and flak, to honor their country's call to defeat Hitler and his gang of thugs.
Author Steve Snyder, in dramatic detail, tells the story. He sets forth the history and wartime experience of the 306th Bomb Group of the U.S. 8th Air Force and, in particular, that of Snyder's father, Howard Snyder and the crew of the B-17 Susan Ruth. The Group was based in England and flew missions over occupied Europe to hit German targets. Singled out by a German Focke Wulf firing 20mm cannons, and hit by flak that took three feet off the left wing, the Susan Ruth was shot down on Howard's 6th mission on February 8, 1944. Miraculously, Howard was able to bail out though the B-17 was crippled, on fire and beginning its plunge to earth. Landing in a tree in Belgium, Howard was hidden by brave Belgian citizens, eventually joining the French Resistance, participating in the D-Day invasion by blowing up rail lines and harassing German forces.
It was not easy to sleep after reading Snyder's account of the Bomb Group's action, which makes plain the terrible odds of U.S. airmen ever seeing home and loved ones again. These young men, after their buddies and friends were lost to German fire, day after day, would step up and one more time face death or bailing out into enemy occupied territory where capture and sometimes execution by Nazi SS criminals was likely.
Snyder's account of the Susan Ruth's fate and the attempts of the crew to escape the burning plane are searing. He quotes his father:
"…I could hear 20 mm [cannons] striking and exploding
as they hit the ship. Pieces of equipment and parts of the
ship were flying about, striking my feet and legs…As I
looked around in a half-dazed state, I became slowly
conscious that the entire cockpit was filled with smoke
and flames."
Howard, the last man out of the burning plane, jumped at 20,000 feet and was "missing in action" until meeting up with allied forces well after the Normandy invasion. Two of the Susan Ruth crew were killed by the German fighter's attack, three were captured, spent time in German prison camps and came home alive, three crew members were captured and executed by the Nazis, and two were successfully hidden, including Howard Snyder, and repatriated by American forces after D-Day. The account of the courageous Belgian citizens, hiding and protecting the fliers and the close calls they experienced with the Gestapo searching and always on the lookout for the Susan Ruth's survivors, is riveting.
Snyder speaks of the preparation and education of airmen, their deployment to a part of the world unknown to them and their stoic acceptance of their role in defeating the Nazi's. I can't imagine being challenged by the choices these young Americans faced. My heart went out to the gunners, the navigators, the bombardiers and the pilots who sacrificed for us, much of their experience unknown to Americans today. Snyder thankfully closes that gap as best one can in a book of this sort.
I warn you: this book will make you cry, cry for those who never came back, for their families and loved ones who sent them off, never to see them again. And care deeply about those who were lucky enough to see our shores once more and who did their duty to take the war to those who started it. It also reminded me of the evil humankind is capable of imposing and the perils of averting our eyes lest we shrink from opposing it.
If you like your freedom, read this book and thank those who made it possible. Thank you, Steve Snyder, for telling the story!
---
A fascinating and intimate view of the experience of a B17 pilot, his crew and fellow airmen during World War II

By Earl J. Linford "tontonrearl" (Salt Lake City, Utah)
A fascinating and well written book about B17 Flying Fortress' crew training, the plane itself, the war experience and trials of different pilots, plus the story of heroes that were shot down into enemy territory, and who were rescued by Belgian and French citizens.
I loved the insight given by Howard Snyder (Steve's dad) through his letters and diary excerpts, and the photos of family, crew members and the people of Belgium and France who helped Howard and his fellow airmen once they were shot down.
---
Included are actual love letters to those back home

By Joe DeBoard (Morgan Hill, CA, US)
VERY WELL DONE. The author had to have done a mountain of research to accurately and historically describe the events that surrounded the main character (his Dad) as he flew a B-17 over Europe, was shot down, and evaded capture. The book is as much a factual history text as it is a human interest story of how the war impacted the lives of those who fought and their families back home. Included are actual love letters to those back home, actual photographs of those involved and diagrams to help the reader visualize events. The overall story puts a very deft human touch on the impact the war had on countless lives. A VERY GOOD READ.
---
A masterful addition to the History of WWII
This life story of Howard Snyder, the author's father, is a great addition to the history of the Mighty 8th Army Air Forces and its successful impact on the final defeat of Nazi Germany in WWII. Steve Snyder's unique perspective and extensive research has produced an historical masterpiece which should be part of every library in America and in England, to complete the "History of the Mighty 8th" and WWII itself! Hopefully it will eventually become a movie so that as many people as possible will learn of the heroism of the crews of the B-17s to bring that horrendous war to a quicker, proper ending.
---
Thanks
I loved it Steve. My past few years of research into the downed pilots and crews in the area has been an amazing journey. Shot Down opens the history books on a little remembered event just an hour from my current home. Other than family of the crew and the people directly impacted by them, few know the tale. I am proud that you were able to put this piece together. Proud to know my co-workers played a small part in telling this story and proud that we will once again recognize Howard Snyder and his crew once again this year.
I generally avoid getting personal in Amazon reviews, but the story brought tears to me eyes. I know it so well, but reading it from a new perspective filled so many gaps. Thanks for finally getting this story to print so many years after the event. It had to be told. Lest we forget.
---
A joy to read

By Amazon Customer
I was delighted to be given an opportunity to read this book. I have been reading around a lot of the subject matter of WWII and this synopsis immediately drew my attention, I do love a true story. I really loved the way that the book was written and the extracts from the authors father to his mother when he was overseas are touching and I feel privileged to have been able to read these. The descrptions in the book are fantastic and it really goes in to the detail of what it would have been like to be fearful of becoming a POW and the threat of being caught by the Nazi's that were patrolling over Belgium and France at the time. It really does bring it home what these servicemen went through to assist a wartorn country hundreds of miles from home. They truly were very brave gentlemen
---
An excellent explanation of a B 17 crew training and preparation for missions.

By Michael T Kennedy
This book is the story of a B 17 crew from the first days of their training through their first missions in England with the 306th Bomb Group I particularly enjoyed the description of training as this was new to me. The description of missions and the equipment the crew used was also very informative. The story of the crew after the plane was shot down is also interesting but the best part for me was the informative sections about the training in the US and the equipment and preparation for missions. It's highly recommended.
---
Snyder hits a home run, must read
Educational yet touching, Steve Snyder hits a home run with his freshmen effort in Shot Down. I enjoyed reading about the training these men went through in the States and England, as well as the different jobs each man had in the B-17 plane. The personal and touching part comes into play with the many letters Howard wrote home to his newlywed and pregnant wife during the war. The stories of the WWII POWs are exciting, nerve wracking and anxiety-ridden as Snyder puts the reader in the front seat describing what happened to the men in his Father's crew. I highly recommend this book and feel every American should read it to learn about where we come from as a nation, and the steep price we've paid along the way.
---
Easy to Read

By Matthew Duling (Santa Rosa, CA USA) 
The American B-17 bomber was shot down over Belgium. The crew parachuted out. Yet the pilot himself landed awkwardly, and was left hanging from the limb of a tree, dangling twenty feet above the ground. German soldiers were looking for the flight crew, but the recent snow fall made it difficult for their dogs to find the scent. First, however, people from the Belgian underground found the pilot. They cut him down, took him in, and sheltered him and other crew members until peace came many months later.
The story is well told and paced, easy to read, with evident research, including many apt photographs and reproductions. Members of the Army Air Corps had arrived in England. A major challenge was mastering the difficult art of all-weather flying in tight formations, maintained for protection from enemy fighter aircraft. A view of the private lives of the American airmen is presented. The author, being the son of the pilot Howard Snyder, can give insider perspectives, and indicates the emotional quality and intuitive realities of live in these historic circumstances.
---
Five Stars
Great book, couldn't put it down. Very well written and very interesting subject matter.
---
This is truly an amazingly personal story. It is …
This is truly an amazingly personal story. It is a "must read" for anyone with an interest in WWII. Steve Snyder is to be complimented for his thorough research and really heart-warming story of one of the true heros of the war.
---
Great Story of Real Heroes
I was very interested to read this book as my grandfather was a pilot in the same bomb squadron that the Susan Ruth's crew member's were in.
The book did not disappoint. It perfected that hard to find balance of being a bit of a history book, conveying the day to day aspect of being a bomber crewman, and telling an emotional, exciting, gripping story that is hard to put down.
I personally really liked that Steve told the story/process of training to become a bomber pilot very effectively. I have read a good amount of books on B 17 bombers and a lot of them skip or give scant information about that part and start in England. I learned a lot more about that. The book really tells about normal people that you can relate to who rise to become heroes due to living through the war.
I really liked the exciting, but mostly scary flying/combat parts, but another element is added to the story after they are SHOT DOWN- survival and the hard decisions people had to make during WW2, where each choice had huge effects for everybody. If you are interested in WW2 or the bombers you will enjoy this book!
---
It was very quick and easy read as you wanted to see what was going …
This book as a person not familiar with this war was very insightful and could tell it was written with heart. It was very quick and easy read as you wanted to see what was going to happen with the war and the love Steve's Dad had for his wife and family. I love nonfiction books. Great read even for younger generations.
---
5 Stars!

By Melissa W.  See all my reviews
I received this book from my Uncle and once I got started, I could not put it down. Having just returned from Belgium where I visited several World War II sites, I especially enjoyed reading a narrative that was well researched and rich in detail. I have read several fiction and non-fiction World War II era books and this one stands out because of the accuracy in detail and the personal stories woven into the bigger picture. It was interesting to see the impact that the American military had, not only on Americans but of the Belgian and French people they encountered. I only wish that I had read this book before my trip to Belgium, not after. I would highly recommend this book to anybody looking for a great World War II era book.
---
I gave copies to my sons, a must read.

By Dan N (Arcadia, CA United States) 
Thank You Steven Snyder- a must read. My understanding of WW II was limited to some history and Hollywood, enjoying movies like Twelve O'clock High and Memphis Belle. I enjoy seeing old planes at air parks and memorials, driving past the parked B-17 on Hwy 99 in Tulare CA, thinking that I have lived my life in peace, thanks to the service of our Servicemen. Reading Shot Down, I have some understanding of how the war affected so many lives. This is more than a story of the crew of the Susan Ruth. Shot Down shares the story of the Belgian villagers who lost all that was theirs and risked their lives for the support of the bombers. The history in the book told of the horrors the Nazis inflicted on towns and villages. The notes and letters provided made the story very personal for me. The factual information, statistics, drove home the magnitude and impact of the war. This is a history lesson I consider as world events unfold today. I gave copies to my sons, a must read
---
 Gripping Story!
I really enjoyed the is book for the following reasons:
1. I learned a lot about the bravery of the Belgian resistance. At times, my jaw dropped when I read about the incredible risks they took to save downed Allied airmen.
2. The personal letters between the crew of the Susan Ruth and their loved ones back home brought the story to life.
3. Finding and interviewing the German pilot who shot down the American B-17 demonstrates the author's enthusiasm for research.
4. This isn't just a personal tribute to the author's father, but a serious attempt to explain the air war in Europe, from the American point of view.
In his video interview on Goodreads, the author says he was trying to appeal both to military historians and the general public. I would say he has succeeded with flying colours!
---
Shot Down is a great read for those interested in the history of our …