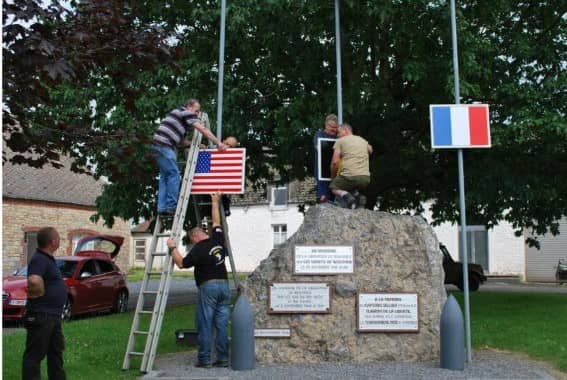 A recent article, Les préparatifs du 70e de la Libération, (Preparations for the 70th Liberation of Belgium), appeared in the regional Belgian newspaper, l'avenir (The Future).
It was about the work being done on several World War II memorials in the area of Momignies to prepare them for ceremonies that will take place at those locations between August 28 and September 3.  Taking part in the ceremonies will be the U.S. Ambassador to Belgium, Denise Campbell Bauer, and the Commander of the U.S.Army Garrison Benelux, Colonel Marvin Vannater Jr.
On September 3, ceremonies will take place at two memorials associated with the crew of the B-17 Susan Ruth:
The Susan Ruth Memorial at Macquenoise in memory of the ten-man crew of the B-17 Susan Ruth.
The 22 April 1944 Memorial at Saint-Rémy in memory of the eight U.S. airmen and two members of the Belgian resistance who were murdered by the Germans on April 22, 1944.  The eight airmen were from crews of the B-17s Susan Ruth and Rationed Passion of the 306th Bomb Group, Women's Home Companion from the 303rd Bomb Group and Skunkface from the 91st Bomb Group.
More than twenty relatives of Susan Ruth crew members, pilot Howard Snyder, co-pilot George Eike (one of those killed on April 22), bombardier Richard Daniels, and waist gunner Louis Colwart will be traveling from various states in the U.S. to attend.