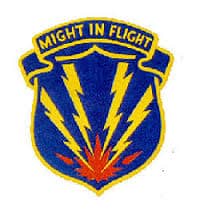 In doing research for my book, Shot Down, I visited a multitude of websites in my search for information about the air war in Europe during World War II.  One of the best sites I came across is one of the 303rd Bomb Group whose nickname was "Hell's Angels". The 303rd was stationed at Molesworth, England and their motto was Might in Flight. Their website contains more than 2,700 separate web pages and over five million words, which are fully indexed and easily searchable.
The 303rd's B-17 Women's Home Companion piloted by William C. Osborn is written about in Shot Down.  It was shot down on a December 30, 1943 raid to Ludwigshaven, Germany and the I.G. Farbenindustrie chemical works. The plane (AC #42-39795) crash landed in a field at Cerfontaine, Belgium, near the Luxembourg-French-Belgian border. Missing Air Crew Report (MACR #1674).
Waist gunner Vincent Reese from Philadelphia evaded capture and eventually joined up with seven other downed U.S. airmen (three from my father's B-17, the Susan Ruth) at St. Remy, Belgium near Chimay where tragedy struck on April 22, 1944. He is buried at the American War Cemetery, Margraten, Netherlands.