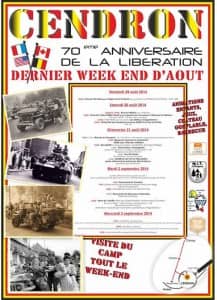 Today, my wife and I are flying to England to retrace my father's footsteps while he was stationed at Thurleigh with the 306th Bomb Group.
Of course, we'll be doing some sightseeing while in London, but the highlight will be going out to the countryside and staying at The Swan Hotel, built around 1794-96, in Bedford. We'll be visiting Ralph & Daphne Franklin at the 306th Bomb Group Museum at Thurleigh, Imperial War Museum Air Museum at Duxford, the Cambridge American Cemetery at Cambridge, and other air bases in the area.
The extra special experience will be going to The Falcon at Bletsoe. It's a 17th Century Coaching Inn on the banks of the River Great Ouse, and where my father and the other officers of his crew "tied one on" the night before being shot down on February 8, 1944.
The real purpose of the trip comes after we fly to Brussels on the 28th to meet up with our three sons and other family members to attend the 70th Anniversary Celebrations of the Liberation of Belgium and of my dad's plane (B-17 Susan Ruth) being shot down. The celebrations will take place at numerous locations in southern Belgium around Chimay, and will run from August 29 to September 3. Twenty other relatives of my dad's crew will be in attendance as well.
In addition to the festivities, we'll be visiting many places mentioned in my book, Shot Down, including several homes where my father was hidden by members of the Belgian underground while he was missing in action for seven months.
Below are a few pictures of preparations being made for the festivities.