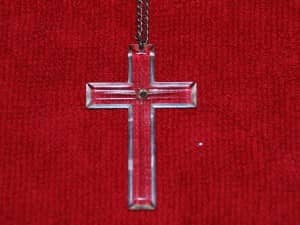 After my father's B-17 Flying Fortress was shot down and crashed at Macquenoise, Belgium on February 8, 1944, two small cross necklaces were made out of the plexiglass from the plane, named the Susan Ruth after my oldest sister who was one year old went my father went overseas to be stationed with the 306th Bomb Group at Thurleigh, England.
After the war ended, the little crosses were sent by Nelly Tilquin to my father, Howard, to give to his wife, Ruth, and his mother Minn. Nelly and her husband, Paul, were two of many Belgian patriots who helped hide my father from the Germans while he was missing in action for seven months.
In her June 1945 letter to Howard, Nelly wrote:
"We are sending you in return our modest family photograph. Also, two small crosses made out of the mica coming from the debris of the fortress which you were piloting above us at the time of the tragedy, and a little handkerchief cut out of a piece of the parachute which saved your life."
Although plexiglass is not technically a type of glass, the substance is often called acrylic glass. Because of its lightweight and shatter-resistant properties, it was used for aircraft windshields, nose sections, and gun turrets.