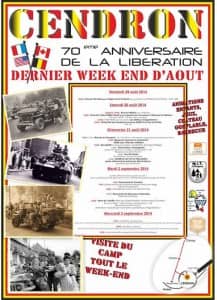 From August 28 through September 3, the 70th Anniversary Celebrations of the Liberation of Belgium will be held in and around Chimay. Band concerts, military vehicle parade,  memorabilia fair, religious service, fly over, liberation walk, lunches, receptions, dances, and ceremonies will all take place to honor the Allied servicemen who helped free the Belgian people from Nazi occupation. Included will be ceremonies at four memorials:
Cendron – where the first U.S. troops crossed over the Wartoise Bridge from France and entered into Belgium on September 2, 1944
Monceau- Imbrechies – where the first battle took place and first Americans soldiers were killed on September 2, 1944
Macquenoise – where the B-17 Susan Ruth piloted by my father, Howard Snyder, crashed after being shot down by two German Focke-Wulf 190 fighters on February 8, 1944
Saint Remy – where eight U.S. airmen (including George Eike, Robert Benninger, and John Pindroch from the B-17 Susan Ruth) were betrayed, captured, and shot by the Germans on April 22, 1944
My wife, Glenda, and I attended the 50th and 60th Anniversary Celebrations in 1994 and 2004 and this year will be attending with our most of our family and about 20 other relatives of Susan Ruth crew members.
It's Our Duty To Remember