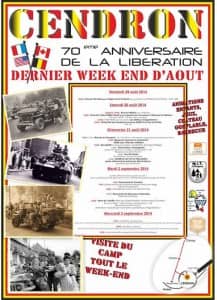 On September 2, 1944, the 9th U.S. Infantry Division entered Belgium from France, crossing over the Wartoise River at Forge-Philppe, near Cendron and liberated the country from four years of Nazi occupation and oppression.
On that same day, my father, pilot of the B-17 Susan Ruth was also liberated. After missing in action for seven months and fighting the last two months with the French resistance group, the Macquis, he went to Trelon, France to meet up with Patton's 3rd Army.
Today, my family and I , along with relatives of crew members, George Eike, Richard Daniels, and Louis Colwart, are in Belgium to attend the 70th Anniversary Celebrations.