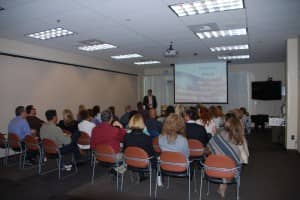 On November 12, I made a PowerPoint presentation at my former employer, Vision Service Plan (VSP) and afterward sold and signed my book, SHOT DOWN.
VSP Vision Care is a not-for-profit vision insurance company that provides eye care plans to over 60 million people in the United States. The company, located in Rancho Cordova east of Sacramento, California, has approximately 2,400 employees and is a subsidiary of VSP Global which has a total of 5,000 employees worldwide.
I started working for VSP in November 1973 when it had about 35 employees and spent my career there working in sales and sales management, retiring in August 2009. For the first eleven years I was a Sales Representative and then Regional Sales Manager for Southern California and Southern Nevada. When VSP went national in the 1980s, I became Vice President of National Accounts and spent the next ten years flying all over the country calling on Fortune 500 Companies. The last 15 years, I was Vice President of VSP's Eastern Sales Division.