Today, Helen Prietz Eike Smith turned 93! Helen was the wife of George Eike, co-pilot of the B-17 Susan Ruth.
My father, first pilot Howard Snyder, went through transitional training with George at Pyote, Texas and operational crew training at Dalhart, Texas before being assigned to the 306th Bomb Group stationed at Thurleigh, England.
Helen and my mother, Ruth along with her and Howard's baby daughter, Susan Ruth, lived off base at Pyote and Dalhart and the two married couples became good friends. Tragically, George was one of five crewmen of the B-17 Susan Ruth who never made it back home…all the details are in my book, SHOT DOWN.
Happy Birthday Helen and God's Blessings!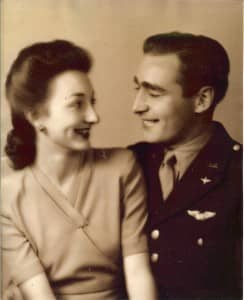 Helen & George Eike